Wind and Storm Damage Restoration in the Lansing, MI, Area
Has your residential or commercial property sustained damage by high winds or a storm? McCardel Restoration will be on their way to your door, 24/7, in the Lansing, MI, area.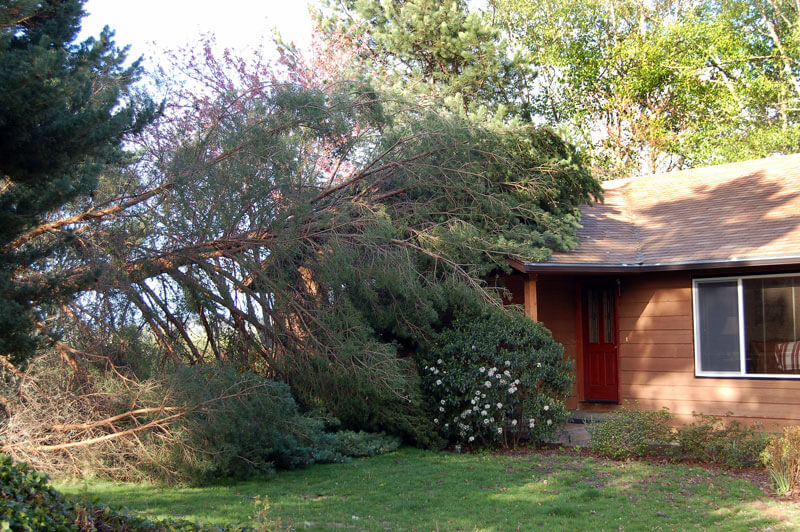 24/7 Fast Response

Emergency Board-Ups to Protect Against the Elements

Tree and Debris Removal

Ice Dam Repair

Storm Damage Reconstruction

Wind Damage Repair
Many times during a storm heavy winds, hail, and rain can cause tremendous damage to the shell of a structure. Siding, roofing, and windows can be affected and may need immediate repairs to prevent further damage. The proper matching of building materials to be replaced is key when restoring exteriors. Wind & Storm Damage Company, McCardel Restoration's highly trained staff is here to guide you thru this difficult time and help you make the right decisions. Our goal is to speed up the restoration process and secure your home from further wind & storm damage as soon as reasonably possible.
Cleaning Up the Mess
Tree / Brush Removal
The fallen trees and branches must be addressed and removed from the property.
Board-Up
We must secure the structure and your contents as soon as possible to protect it. This includes covering holes in the shell with plywood and tarp the roof as needed.
Temporary Power
It's typical during a storm to lose power. Trees hit power lines and lightning strikes transformers. At these times we have access to emergency electricians and generators to keep the necessities powered in your home or business.
Construction Services
Utilizing our extensive knowledge of building systems we will work with you and your insurance company to devise a plan for reconstruction. During this process we will need to pay close attention to match the materials closely. Click here learn more about our construction services.
Additional Resources
Your local fire department

The American Red Cross

The Federal Emergency Management Agency (FEMA)

McCardel Restoration
We're Here to Help – Message from the Owner
"In the time of a catastrophe to your home or business McCardel Restoration understands the need to get back to normal quickly. The hardships of break in daily routine and the added stress of worrying about how to get it back to normal can be overwhelming. Our goal is to alleviate that stress by jumping in and helping you in the time of need. When you don't know who to trust turn to us, we will have you back to your daily life in no time!"
McCardel Restoration is a full service Restoration company with emergency services available to our customers 24 hours a day and 7 days a week. Our success is measured by how quickly we can re-establish your daily routine. At McCardel Restoration, our thorough Communication, Estimation and Procedural Operation will help to minimize your inconvenience caused by the Wind & Storm Damage to your home or building. Let us assist you during this challenging time. Call now to protect your property from further damage: (517) 235-5789.