Frozen or Burst Pipe Repair in Lansing, MI
When a hard arctic blast approaches, most homeowners go through a checklist to ensure their water pipes stay intact as the temperature plummets. Still, sometimes, the freezing cold will manage to evade those precautions and cause damage throughout the property. Rely on McCardel Restoration to assist you 24/7 with any issues resulting from a winter freeze.
Call Now! - (517) 235-5789 24/7 Emergency Service - Call Now!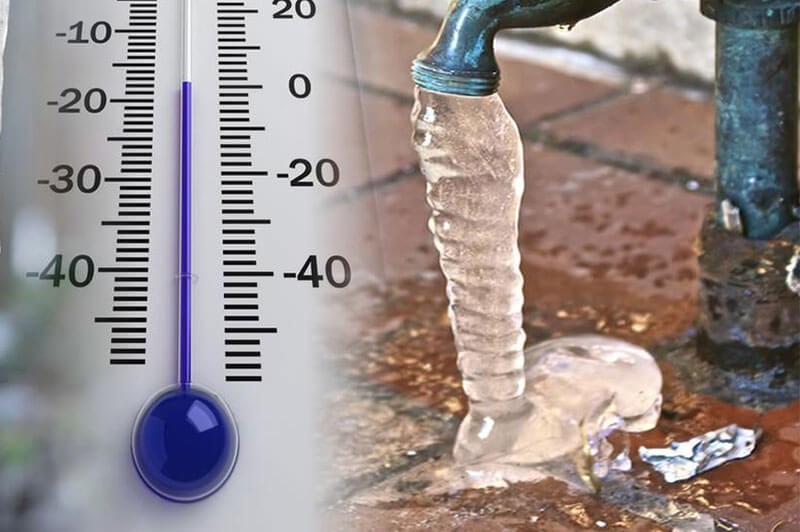 24/7 Fast Response

IICRC-Certified Technicians

Bill Directly to Your Insurance

Reduce Further Damage to Your Property

Restore Your Running Water Quickly
Steps to Take Before the Freeze
Keep the inside water faucets on a fast drip.
Make sure all water pipes going into and out of the house are insulated.
Be certain all water spigots outside are covered up and the garden hoses detached and put away.
Check other water areas like swimming pools or fountains to ensure the pipes are properly insulated.
After the Freeze
Once the cold spell is over, it's good to make an inspection to be sure everything is okay. If a pipe freezes and breaks, the problem can grow progressively in a short time. If the leaking pipe is inside a wall, you might not know it until a wet stain on your drywall becomes obvious. This damage needs quick remediation by an IICRC-certified restoration company like McCardel Restoration. Procrastination is your worst enemy when dealing with leaking pipes and water damage in your home or business. Damage to wood and drywall will only get worse.
Call us today for 24-hour response to any damage you experienced. We are proud to service Lansing, MI, and the surrounding areas.
Procrastination Results in Catastrophe
Adding insult to injury, when moisture gets into your walls or other confined areas, it becomes a breeding ground for micro-organism infestations such as black mold. Your house is sick and in need of a professional cure before it creates a serious health risk.
Whether the damage has created a problem in your home or workplace, call McCardel Restoration at (517) 235-5789 . We are available for your call 24/7. Our experts will restore your premises quickly and efficiently to a quality at least equal to what it was before the damage.
What to Do About a Burst or Leaking Pipe
If the freezing cold has led to pipe damage that is releasing water into your residence or business, you need to follow a simple procedure without delay:
Step 1: First, contact your insurance company when discovering water damage, mold damage, or damage from a natural disaster to decide if you're going to submit a claim. Frozen and busted water pipes fall into the last category. The first two – water and mold – are what bring in the real trouble.
Step 2: A quick response from you, the property owner, will help eliminate additional damage, so calling McCardel Restoration to mitigate your restoration should be your next move.
Step 3: McCardel professionals will come to your home and evaluate the damage. Should your home need emergency restoration, temporary board up, or just an estimate for the repairs, we can help you through every step.
Step 4: We will be in contact with your insurance adjuster and make sure they receive all the necessary paperwork to complete your claim. Our certified estimators will perform a thorough walk-through with your adjuster, if needed, to make sure everyone agrees with the scope of work needed to return your home to its condition before the damage.
Step 5: Upon the finalization of your restoration and repair needs assessment, we can then begin the process to restore your home.
Step 6: As the property owner, you can make selections regarding the interior elements of your home. You have the capabilities to make cabinet selections, flooring choices, and paint colors should the need arise because of irreparable water damage. We are happy to talk with you about the choices available in your area.
Step 7: Upon the completion of all of the work, our estimators will conduct a final walk-through to make sure everything is back to normal, pre-loss conditions.
Contact McCardel Restoration for your winter weather damage needs. We are committed to providing residential and commercial property owners with exceptional service. Planning and executing a solid restoration plan will minimize your losses when the hard winter weather wreaks havoc on your property. Our professionals work closely with engineers, architects, insurance people, and homeowners associations in the process of restoring your damaged home or business.