Vehicle Impact Damage Repair in the Lansing, MI, Area
For full-service repair after a vehicle crashes into your property, call McCardel Restoration in the Lansing, MI, area.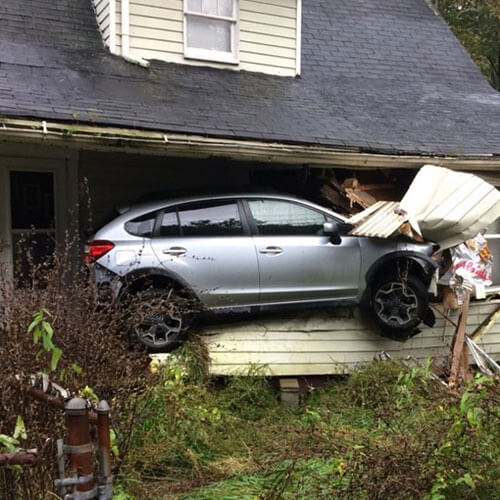 24/7 Emergency Response

Glass Removal

Structural Repairs
Paying close attention to load bearing walls and shoring up as soon as reasonably possible is our specialty. McCardel Restoration's highly trained staff is here 24 hours a day 7 days a week to guide you through this difficult time and help you make the right decisions. Our goal is to speed up the restoration process and secure your structure from further damage as soon as reasonably possible after vehicle impact damage has occurred.
Assessing the Damage
Contact our trained professionals today for immediate response regarding vehicle impact damage to your home or building. We will survey the structure and assess its integrity. The most important aspect after a vehicle impact is to ensure everyone involved and occupying the structure is safe. After that time we will work with you to create a restoration procedure to fit your needs. This includes helping you determine if the structure is safe to occupy.
Cleaning Up the Mess
Glass Removal
The fallen glass must be addressed and cleaned up safely. When glass breaks it produces millions of tiny shards that can be irritating the skin and eyes. Proper protection must be worn.
Board-Up
We secure the structure and your contents as soon as possible to protect it from theft. This includes shoring up any unsecured walls and covering the openings with Plywood temporarily.
Structural Repairs
Utilizing our extensive knowledge of building systems we will work with you and your insurance company to devise a plan for construction services. During this process we will need to pay close attention to match the materials closely.
Additional Resources
Your local fire department

Your local building department

McCardel Restoration
McCardel Restoration is a full service Restoration company with emergency services available to our customers 24 hours a day and 7 days a week. Our success is measured by how quickly we can re-establish your daily routine. At McCardel Restoration, our thorough Communication, Estimation and Procedural Operation will help to minimize your inconvenience caused by the Water Damage to your home or building. Let us assist you during this challenging time. Call now to protect your property from further damage: (517) 235-5789.